It is common for people to assume that the driver of the car involved is always the one to blame when an accident occurs, and there is a loss of life or someone has been injured. This notion of pedestrian car accidents is not only misleading but also one of the contributors to pedestrian negligence on the roads.
Do Pedestrians Have a Responsibility?
Just like many other road users, pedestrians are responsible for ensuring the roads are safe for everyone. It is believed that one of the reasons why people overlook the fault of a pedestrian is because, in most cases, they are labeled as the victim of the accident. After all, they have to deal with medical bills after the accident, especially if they are the most injured person at the accident scene.
When using the road, both the driver and the pedestrian have a binding obligation to follow traffic laws and abide by them. The reason for this is to protect pedestrians and drivers as well. Laws ensure that extra precautions are taken to avoid the occurrence of accidents that could not only cause injuries but also property damage.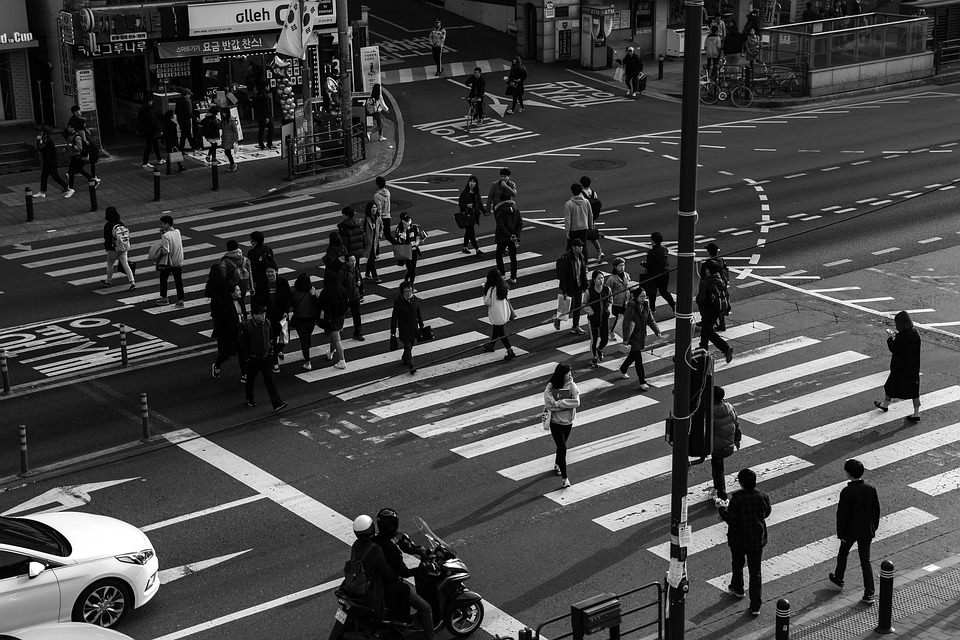 What Contributes to Road Accidents?
Road accidents are unpredictable and can happen at any particular time and to anyone.
The following are some of the many factors that can contribute to accidents on the road. These factors open the door to who is at fault for an accident.
Driver negligence – Driver negligence could be defined as a failure to follow traffic rules, leading to traffic accidents. One of the most common forms of road negligence is the failure to use a traffic signal when using an intersection or a crossing.
Negligent pedestrian – One of the common characteristics of a negligent pedestrian is a person who jaywalks and does not use a designated marked crosswalk place when crossing the roads.
Passengers – Passengers can be a danger to themselves and other road users when they keep projecting their bodies into oncoming traffic during commutes.
Road Conditions – Well-constructed roads can go a long way in protecting pedestrians and drivers from accidents.
Weather conditions – The condition of the road plays a big role in the safety of road users. Adverse weather conditions such as fog, floods, and snow make it difficult for road users to protect themselves from accidents.
Mechanical breakdown – A huge percentage of road accidents can be attributed to mechanical breakdowns during driving.
Pedestrian Accidents
Pedestrian accidents account for a huge percentage of car-pedestrian accidents. The following are some of the common causes of pedestrian accidents on the road.
Ignoring Traffic Signals – When using the roads, pedestrians need to follow signals and avoid crossing at the wrong places
Pedestrians' negligence when using the roads – One of the most common examples of negligence is walking dangerously on the road.
Using dark clothing when using roads at night – Most accidents, especially those that happen, are common because most pedestrians do not use bright clothing or reflectors when walking at night.
Using busy roads under the influence of alcohol – It is common for irresponsible pedestrians to walk on busy roads when they are under the influence of alcohol. This promiscuous behavior makes pedestrians make bad decisions, such as running across the road.
Unmarked or wrongly marked roads.
Weather Conditions.
In most cases, a pedestrian accident attorney is responsible for handling pedestrian accidents and ensuring that the driver can recover compensation once they prove fault for the accident.
Pedestrian accident lawyer
A personal injury lawyer is responsible for representing a driver in a court of law in the case of a pedestrian car accident lawsuit.
One of the biggest challenges a lawyer has to prove is to identify who is at fault for the accident and argue against any claims of contributory negligence that might have caused the accident.
Having enough evidence to prove negligence on the pedestrian's part is important because it could make a difference when filing a liability claim.
When filing, liability personal injury lawyers are concerned with the following factors:
Did both parties exercise reasonable care when using the road?
Is there evidence to prove contributory negligence on both parties?
Sufficient evidence proves that the pedestrian is entirely to blame for the accident.
In a pedestrian car accident, injury attorneys rely on evidence to prove the client is innocent. When proving innocence, a lawyer might explore the following options as a way to prove innocence:
Use of Dashcams and CCTV cameras
It is common nowadays for vehicles to have dashcam cameras installed in them. These gadgets could come in handy in a court of law because they provide an accurate recreation of what happened during the accident so that the information provided in a court of law is accurate.
Apart from dashcam gadgets, CCTV cameras common on most roads are valuable resources and admissible in a court of law when trying to prove sufficient grounds for a liability claim.
Witness testimony
Eyewitness accounts can be a valuable resource when trying to prove innocence in a court of law. Whether written or verbal witness accounts provide more weight in a court of law when trying to claim for a liability claims process
Police testimony or reports
Using police testimony or reports can be a good way to prove who was in the wrong at an accident scene.
This is because police reports capture in detail the events that caused the evidence; apart from that, they could give valuable insight into what happened before the accident.
Professional Testimony
Professional testimony in a court of law could go a long way when one decides to seek compensation in a court of law.
Some professional testimony in a court of law includes doctor's reports to show the nature of the injury sustained during the accident.
Are You Looking for Car Accident Lawyers?
If you or a loved one has been involved in a car accident where the pedestrian is at fault, contact Frischman & Rizza, P.C. Our legal team will guide you through the process and help you get a favorable outcome.
Visit Frischman & Rizza, P.C., at our Pittsburgh or Williamsport, Pennsylvania offices. You can also call us at (412) 291-9377 or [570]605-4126] to book an appointment today.